May 24, 2023
With Help from Elmo, Grover, and Daniel Tiger, Reps. Castro, Hinson, Bonamici and Fitzpatrick Launch the Bipartisan Pre-K and Child Care Caucus for the 118th Congress
WASHINGTON – Last night, at a reception hosted on Capitol Hill, Bipartisan Pre-K and Child Care Caucus co-founder Joaquin Castro (TX-20) and new co-chairs Ashley Hinson (IA-02), Suzanne Bonamici (OR-01) and Brian Fitzpatrick (PA-01) hosted a reception with the First Five Years Fund, Sesame Workshop, and PBS Kids to officially launch the work of the Caucus for the 118th Congress. The Caucus, founded in 2016, works to foster bipartisan efforts to improve access to high-quality, affordable early childhood education and child care.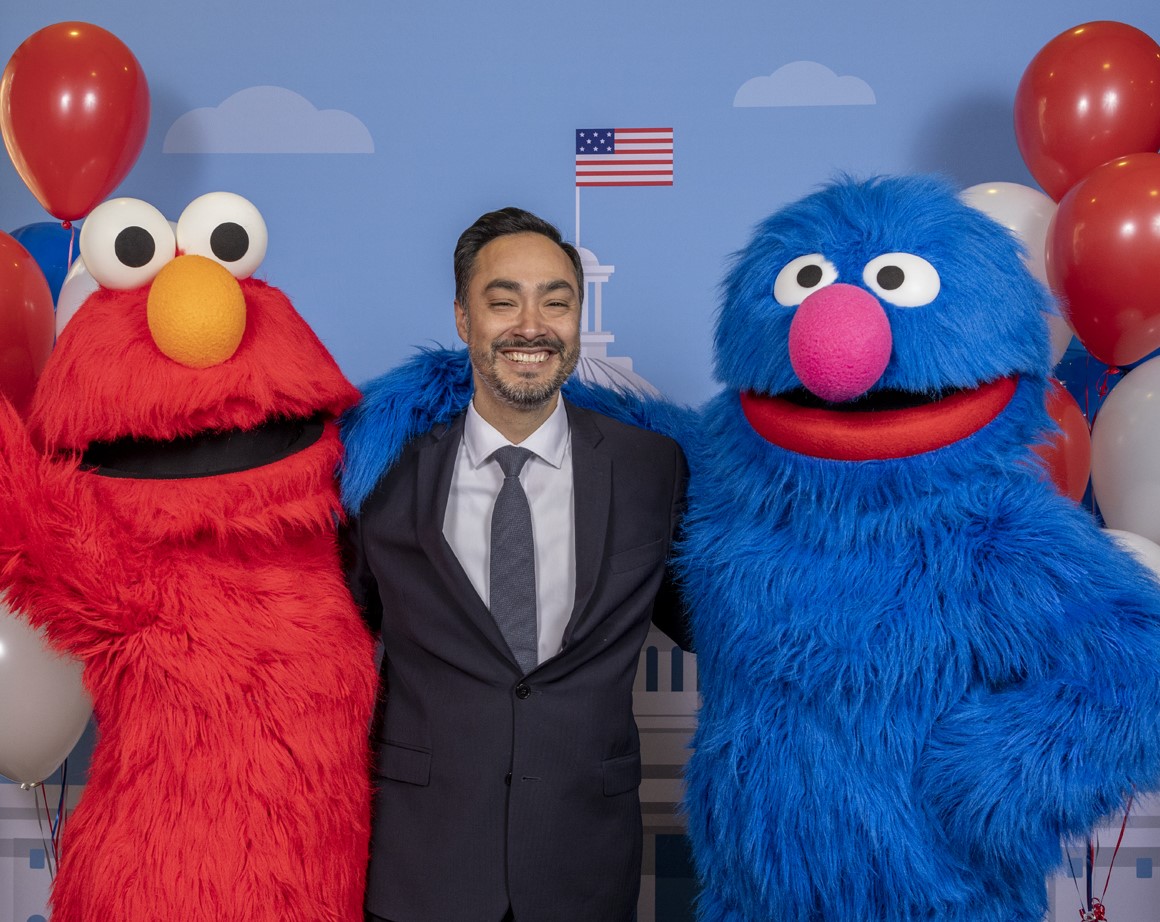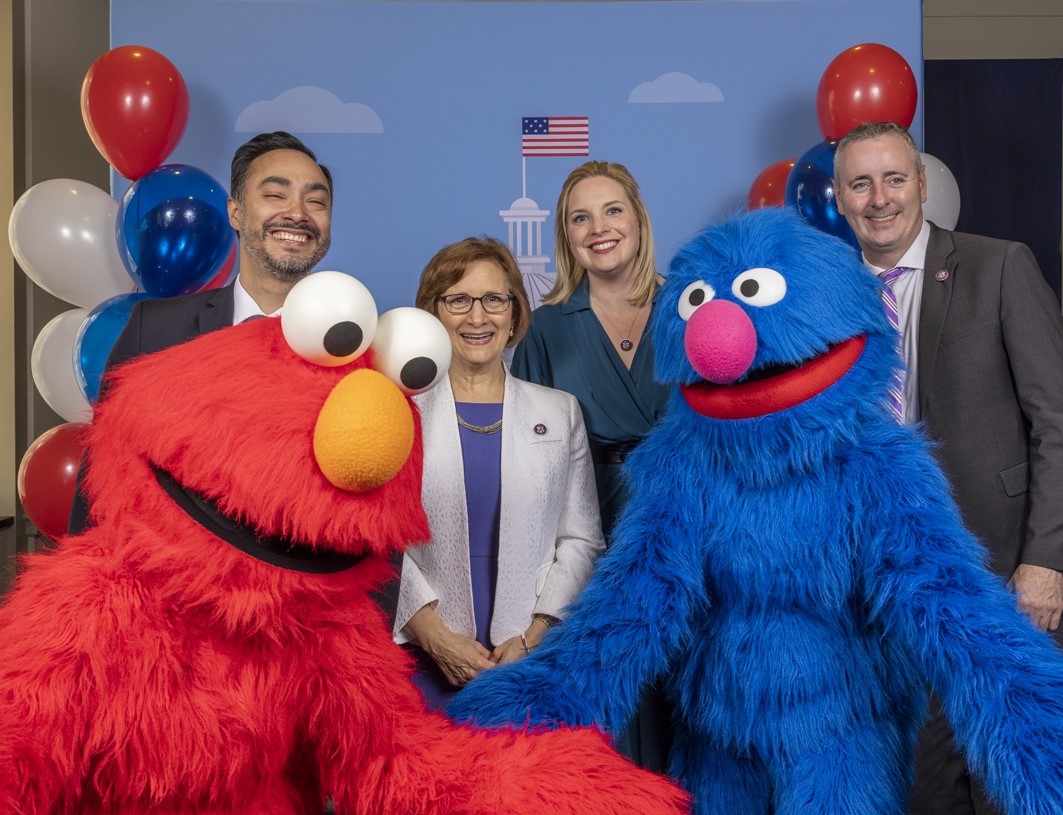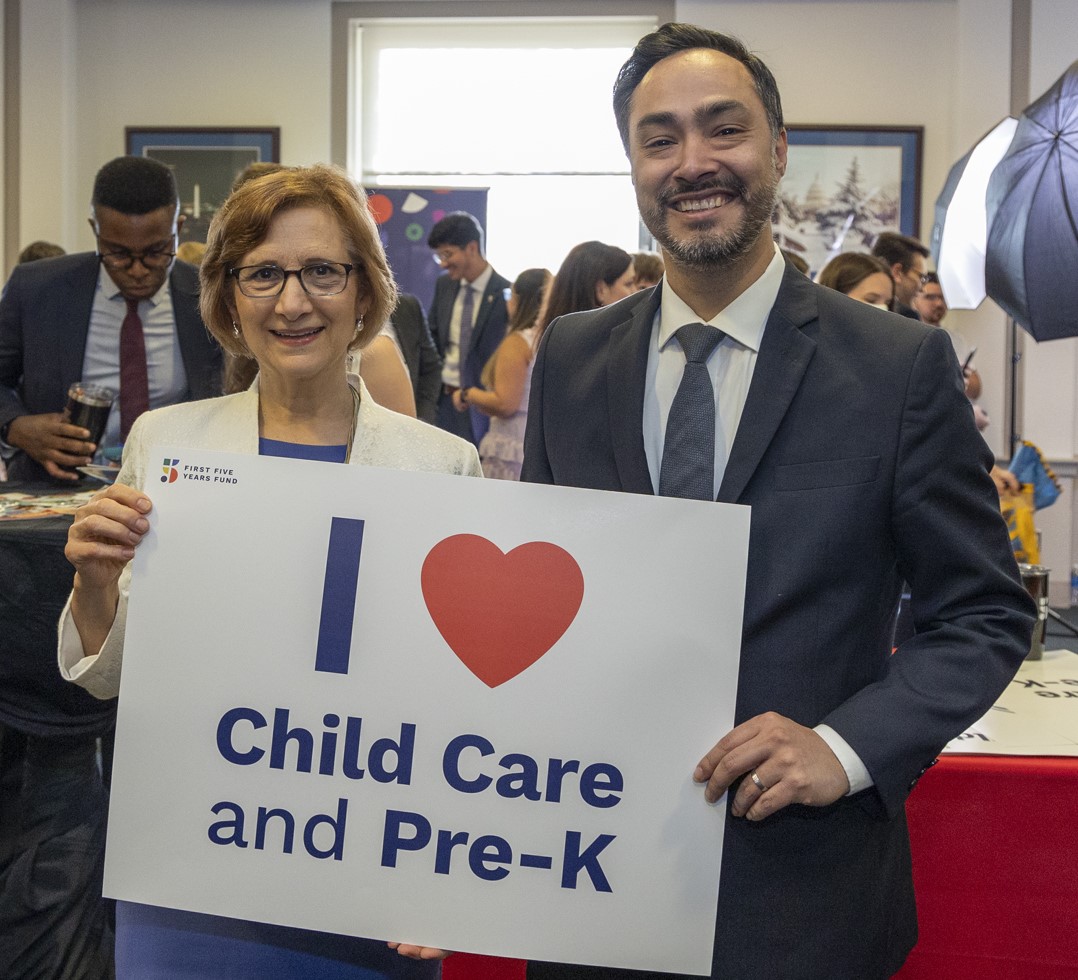 To download high-quality photos from the event, click here.
"Since I was first elected to Congress, my focus has been on expanding our nation's Infrastructure of Opportunity – the great public schools, sound health care system, and good-paying jobs that help people achieve their American dreams. When we invest in high-quality pre-kindergarten and child care programs, they become an essential part of that Infrastructure of Opportunity – setting our kids up for lifelong success and bringing good-paying jobs into our communities. I'm excited to work with Reps. Bonamici, Fitzpatrick, and Hinson along with our Caucus members and partners to make bipartisan progress on pre-kindergarten and childcare access over the course of this Congress and those to come," said Congressman Joaquin Castro, Founding Member of the Caucus.
"When I was pregnant with my second baby, one of the first calls I made was to my child care provider to ensure they'd have a spot open once he was born. This isn't an uncommon occurrence — improving access to affordable, quality child care is one of the top issues I hear about from Iowans, especially those in rural communities," said Congresswoman Ashley Hinson. "I look forward to co-leading this bipartisan caucus and engaging with my colleagues on commonsense policy solutions that will expand access to child care and improve early childhood education."
"Children and families thrive when they have access to affordable, high-quality child care and early childhood education," said Congresswoman Suzanne Bonamici. "I've heard from Oregon families in urban and rural areas who tell me that child care costs more than their housing. This is unacceptable. I'm grateful to join my colleagues in launching the Bipartisan Pre-K and Child Care Caucus to address the child care crisis, and I look forward to finding solutions that help families afford the care and education they and their young children need."
"Investing in high-quality early education and child care programs is a proven way to set our kids up for future success," said Congressman Brian Fitzpatrick. "I am proud to be leading with Reps. Bonamici, Hinson, and Castro as co-chairs of the bipartisan Pre-K and Child Care Caucus. In this 118th Congress, we must continue to work together to strengthen the impact of these essential education and care programs for children under five years old. I look forward to being at the forefront on these issues, advocating and delivering for our communities' families and children."
"We are so fortunate to have the tremendous leadership of this incredible group of policy makers and early learning champions as we relaunch the Bipartisan Pre-K and Child Care Caucus," said First Five Years Fund Executive Director Sarah Rittling. "Co-Chairs Bonamici, Castro, Fitzpatrick, and Hinson are an outstanding team to lead a caucus of their peers in elevating the importance of high-quality early learning and child care for children, families, and our economy. We are looking forward to the work ahead and to bringing more Members into the fold."
"There is no time more critical than the early years to support their emotional well-being and to experience joy, awe, and hope for the future while also supporting them to cope with the challenges that may come their way," said Dr. Jeanette Betancourt, Senior Vice President of U.S. Social Impact, Sesame Workshop. "At Sesame Workshop, the nonprofit with a legacy of over five decades, we know that accomplishing this goal takes a coalition. It takes partners committed for the long term and we are proud to collaborate with the Bipartisan Pre-K and Child Care Caucus here today to continue advocating for our youngest."
"Education is fundamental, foundational, and at the heart of everything public media does," said Paula Kerger, PBS CEO. "Starting with our nation's youngest learners, our content empowers individuals to achieve their potential by opening up new worlds and possibilities. We are proud to partner with groups like the Bipartisan Pre-K and Child Care Caucus to ensure that access to learning is never determined by a zip code or life circumstances, while fostering a lifelong love for it."
"As the nation's flagship early learning program, the Head Start and Early Head Start community commends the Bipartisan Pre-K and Child Care Caucus for their tireless efforts to promote and improve access to affordable, high-quality early learning for our nation's most at-risk children and families," said Yasmina Vinci, Executive Director of the National Head Start Association. "We look forward to working closely with Founding Caucus Co-Chair, Rep. Castro, and the new Co-Chairs, Reps. Bonamici, Fitzpatrick, and Hinson to prioritize and elevate the best interest of children, families, caregivers, and the workforce that supports them."
In addition to the Caucus co-chairs, attendees included Andy Kim (D-NJ), Raul Ruiz (D-CA), Salud Carbajal (D-CA), Jason Smith (R-MO), Stephanie Bice (R-OK), Debbie Dingell (D-MI), Tony Gonzales (R-TX), Rick Larsen (D-WA), Rosa DeLauro (D-CT), Jim Costa (D-CA), Alma Adams (D-NC), John James (R-MI), Delia Ramirez (D-IL), Jill Tokuda (D-HI), Mike Carey (R-OH), Sanford Bishop (D-GA), Kevin Mullin (D-CA), Norma Torres (D-CA), Bill Foster (D-IL), Shri Thanedar (D-MI), Sheila Jackson Lee (D-TX), and Amata Coleman Radewagen (R-AS).
---
---
Next Article
Previous Article