July 14, 2022
House Passes Castro-Kim Resolution Demanding Release of Paul Rusesabagina, Political Prisoner and Hero of the Rwandan Genocide
WASHINGTON – Today, the U.S. House of Representatives voted to pass H. Res. 892, a resolution authored by Congressman Joaquin Castro (TX-20) and Congresswoman Young Kim (CA-39) that calls on the Rwandan government to release Paul Rusesabagina, a hero of the Rwandan Genocide and political prisoner who has been unlawfully detained since 2020.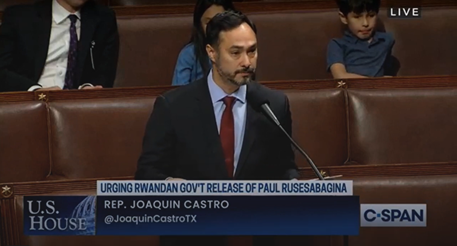 Congressman Castro delivered a floor speech calling for Paul Rusesabagina's release during the June 21, 2022 House floor debate on H. Res. 892. To watch his full remarks, click here.
"For nearly two years, the Rwandan government has imprisoned Paul Rusesabagina in a clear effort to silence his criticism of President Paul Kagame's regime," said Congressman Castro. "Mr. Rusesabagina is a cancer survivor in poor health, and he needs better medical care than Rwandan authorities are providing. If President Kagame and the Rwandan government want to rebuild their credibility on the international stage, they must start by sending Mr. Rusesabagina back home to his family in San Antonio."
"Mr. Paul Rusesabagina is an American permanent resident who was extrajudicially transferred from his home and subject to a deeply flawed trial," said Congresswoman Kim. "The Rwandan Government's harassment of dissidents and those critical of the government is alarming, and the trial and the process by which Mr. Rusesabagina was apprehended appears to further this concerning pattern. I am praying for his wellbeing and am proud that Congress could come together to urge the Biden administration to prioritize securing his immediate release and raise his case with the highest levels of the Rwandan government."
"We would like to express our deepest thanks to the House members, on behalf of our father who cannot yet thank you himself, for joining your voices to those around the world who have called for Paul Rusesabagina's release. This overwhelming show of support from the US House of Representatives will mean the world to our father, and again demonstrates that the US will not stand quietly in the face of the wrongful detention of those who call America home," said Anaïse Kanimba, daughter of Paul Rusesabagina, on behalf of the Rusesabagina family.
During the 1994 Rwandan Genocide, then-hotelier Paul Rusesabagina provided shelter to more than 1,200 Hutu and Tutsi refugees, shielding them from Interahamwe militias and saving their lives. In the aftermath of the genocide, Rusesabagina and his family received asylum in Belgium and later moved to San Antonio, Texas. Rusesabagina's story was depicted in the 2004 film Hotel Rwanda, and he received the Presidential Medal of Freedom from President George W. Bush in 2005.
As his public profile rose, Rusesabagina received international attention for his criticism of human rights abuses and corruption by the government of Rwandan President Paul Kagame. Kagame, who has controlled the country for more than 20 years, won a third term in 2017 in an election the State Department characterized as beset by "irregularities and instances of ballot stuffing [that] undermined confidence in the integrity of the results." In the Department's 2021 Country Report on Human Rights Practices in Rwanda, analysts documented broader human rights concerns in Rwanda including torture and forced confessions, and noted that "outcomes in high-profile genocide, security, and politically sensitive cases appeared predetermined."
In August 2020, Rusesabagina was extrajudicially transferred from Texas to Rwanda by way of the United Arab Emirates and arrested on politically motivated terrorism charges. The Rwandan government did not acknowledge his detention for three days, during which he was reportedly subject to torture. In September 2021, Rusesabagina was found guilty and sentenced to 25 years in prison in a trial that the European Union described as "marred by numerous violations of his fair trial rights." On May 19, 2022, the U.S. Department of State announced their determination that Mr. Rusesabagina was "wrongfully detained," noting that their "determination took into account the totality of the circumstances, notably the lack of fair trial guarantees during his trial."
H. Res. 892 builds upon a previous bipartisan effort by Congress to urge Rwandan President Paul Kagame to return Rusesabagina to the United States and express grave concern with the mistreatment Rusesabagina has suffered at the hands of the Rwandan government.
The full text of H.Res. 892 can be found here. In full, the resolution:
Calls on the Government of Rwanda to immediately release Paul Rusesabagina on humanitarian grounds and permit him to return safely to the United States
Calls on the Government of Rwanda to ensure Paul Rusesabagina receives access to appropriate, qualified medical professionals and all medical care necessary to guarantee his physical integrity and psychological well-being
Urges the United States Government in all interactions with the Government of Rwanda to raise the case of Paul Rusesabagina and to press for his immediate release on humanitarian grounds
Expresses support to the family of Paul Rusesabagina and their commitment to bringing Paul Rusesabagina home.
Original co-sponsors of H. Res. 892 include Representatives Gregory W. Meeks, James P. McGovern, Susan Wild, Brad Sherman, Dean Phillips, and Jan Schakowsky.
---
---
Next Article
Previous Article