March 31, 2022
Congressman Castro Votes to Cap the Cost of Insulin at $35 Per Month
WASHINGTON – Today, Congressman Castro (TX-20) voted to pass the Affordable Insulin Now Act, legislation he co-sponsored that would lower the cost of insulin for thousands of Texas families by capping out-of-pocket insulin costs in Medicare Part D and private insurance plans at $35 per month.
"For millions of Americans, including a disproportionate number of Latinos, access to affordable insulin is a matter of life and death," said Congressman Joaquin Castro. "The skyrocketing cost of insulin is unacceptable and dangerous, and I was glad to vote for the Affordable Insulin Now Act to bring prices back down. Now, I hope Congress will move to extend the benefits of this bill to those without insurance, who need it just as much."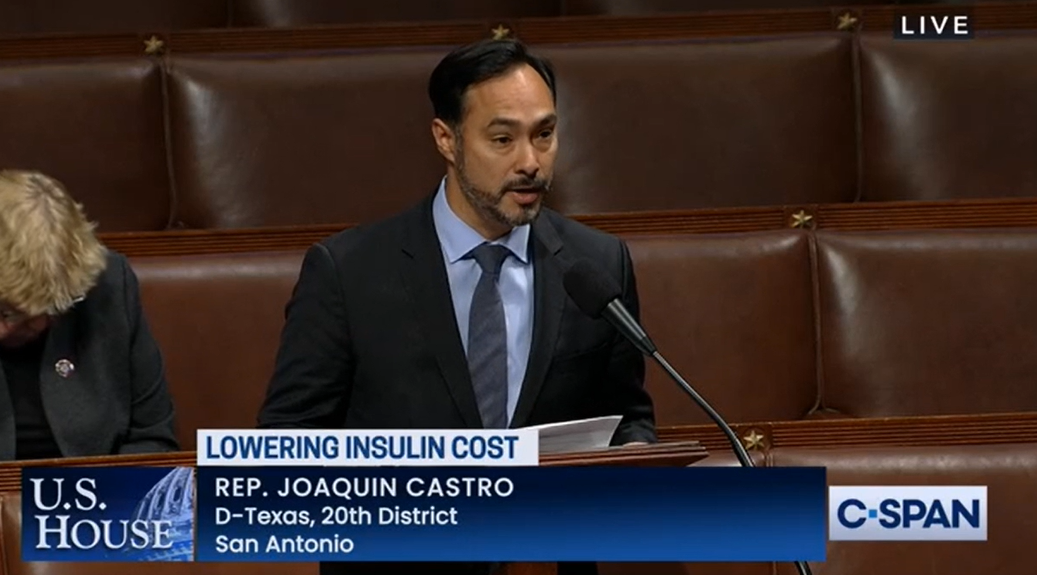 Congressman Castro delivered remarks on the House floor today in support of the Affordable Insulin Now Act. To view the full video of his remarks, click here.
Background:
In 2019, as chair of the Congressional Hispanic Caucus, Congressman Castro convened a series of meetings with the leaders of major pharmaceutical companies to demand accountability for the skyrocketing cost of insulin. Latino adults are 70 percent more likely than non-Latino white adults to be diagnosed with diabetes, and Latinos are 50 percent more likely to die from diabetes.
From 2014 to 2019, the cost of insulin rose by 54 percent, exacerbating an affordability crisis for the 10.9 percent of Texans living with diabetes. In the United States, consumers pay an average price of $98.70 for a unit of insulin – ten times higher than in other wealthy nations.
The Affordable Insulin Now Act will require private health insurance plans to cover insulin, limiting monthly cost-sharing to $35 or 25 percent of a plan's negotiated price – whichever is lower. It also requires Medicare prescription drug plans to limit cost-sharing for insulin to $35 per month. On February 17, Senator Raphael Warnock introduced a companion bill – S. 3700 – in the Senate.
---
---
Next Article
Previous Article