May 20, 2023
Congressman Castro Announces Winners of Congressional Art Competition for the 20th District of Texas
SAN ANTONIO – Today, during an awards ceremony at the Westside Education and Training Center, Congressman Joaquin Castro announced Hogai Qasmi, a senior at Louis D. Brandeis High School, Natalie Garcia-Ramos, a junior at the International School of the Americas, and Amberly Wintheiser, a junior at Louis D. Brandeis High School as the first, second, and third-place winners, respectively, of the 2023 Congressional Art Competition for the 20th District of Texas. Prizes for the winners were provided by the Muriel Siebert Foundation.
"Every year, students across San Antonio submit incredible artwork to the Congressional Art Competition that showcases their talent and creativity. This year, my office received dozens of amazing submissions from students at sixteen high schools across our district, and selecting the winners was a tough job for our judges. Congratulations to Hogai Qasmi, Natalie Garcia-Ramos, and Amberly Wintheiser for their exceptional artwork. Their pieces capture the power of art to convey emotions, tell stories, and provoke meaningful conversations. I'm proud to recognize their achievements and the hard work of all those who competed this year. Thank you to the participating schools, families, and our distinguished panel of judges for their commitment to fostering artistic expression and celebrating San Antonio's emerging artists," said Congressman Castro.
The winning entries for the 2023 Congressional Art Competition are as follows: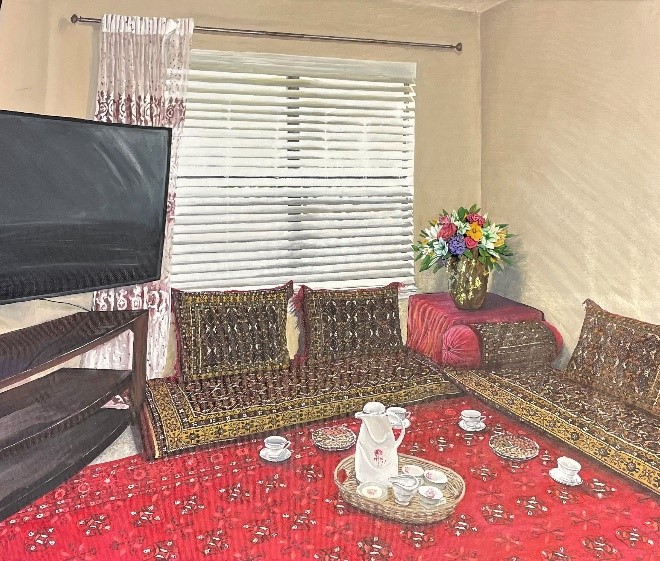 1st place: "Modern With Traditional" by Hogai Qasmi, Louis D. Brandeis High School (12th Grade)
Artist Description: "The artwork represents traditional with modern aspects of Afghan culture. The tea setup with dry fruits and sitting cushions/toshaks, represent hospitality and the flowers represent family. The TV represents the modern world, indicating the overall theme. Afghan people are very proud of their culture yet are aware of and do use modern technology."

2nd place: "Holding On to Let Go" by Natalie Garcia-Ramos, International School of the Americas (12th Grade)
Artist Description: "Two hands holding onto a string representing the struggle of letting go of things."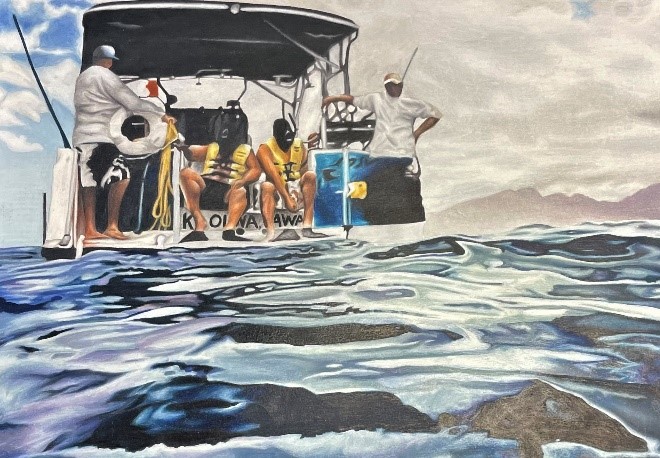 3rd place: "Exploring the Unknown" by Amberly Wintheiser, Louis D. Brandeis High School (11th Grade)
Artist Description: "This piece illustrates an ocean scene with four men on a boat and two of them preparing to snorkel. The ocean contains a level of freedom and movement that is supposed to capture how the ocean actually moves and lulls in real life. I wanted to depict a scene that demonstrates humans and nature coexisting and to demonstrate how humans have greatly influenced marine life across the globe. Their faces are blacked out to demonstrate that millions of people contribute to this global issue."
Each spring, Congressman Castro accepts entries for the Congressional Art Competition from high school students who live or attend school in the 20th District. The 2023 competition was judged by Hilary Rochow, a San Antonio-based multidisciplinary artist and designer who operates a gallery and studio in the Southtown Arts District, and by Andrea Rivas, a San Antonio-based muralist, zinester, illustrator, painter, and creator of the Dos Gatas podcast, which focuses on art and culture.
In addition to today's awards ceremony, the first-place winner will be recognized at an awards ceremony in Washington D.C. and her artwork will be displayed for one year in the U.S. Capitol. The second and third-place winners can have their artwork displayed for one year in Congressman Castro's office.
This year's competition received 96 entries from talented high school students throughout the district. Participating schools included Brandeis High School, Brennan High School, Clark High School, Communication Arts High School, Edgewood Fine Arts Academy, IDEA Brackenridge College Prep, International School of America, Jefferson High School, John Jay High School, John Marshall High School, Memorial High School, McCollum High School, Stevens High School, Warren High School, Young Men's Leadership Academy, and Young Women's Leadership Academy.
Congressman Castro has long been a supporter of arts and arts education in San Antonio. In February, he announced $95,000 in federal community project funding for Centro Cultural Aztlan's Chicano Arts Curriculum for K-12 students. The funding supports Centro Cultural Aztlan's work with artists, educators, historians, and cultural experts to develop a series of lesson plans with audio-visual resources and age-appropriate arts activities to engage K-12 students in learning about Chicano art, culture, and history. To learn more about this funding, click here.
---
---
Next Article
Previous Article