March 16, 2022
Castro, Clark, Cole, Davis Hold 2022 Kickoff for the Bipartisan Congressional Pre-K and Child Care Caucus
WASHINGTON — Today, Congressman Joaquin Castro (TX-20), Assistant Speaker Katherine Clark (MA-05), Congressman Tom Cole (OK-04), and Congressman Rodney Davis (IL-13) joined the First Five Years Fund, PBS Kids, and the National Head Start Association to hold a 2022 kickoff for the Bipartisan Congressional Pre-K and Child Care Caucus. The caucus launched in 2016 to bring lawmakers, policy advocates, and pre-kindergarten/child care providers together to promote policies that expand access to high-quality pre-K and child care.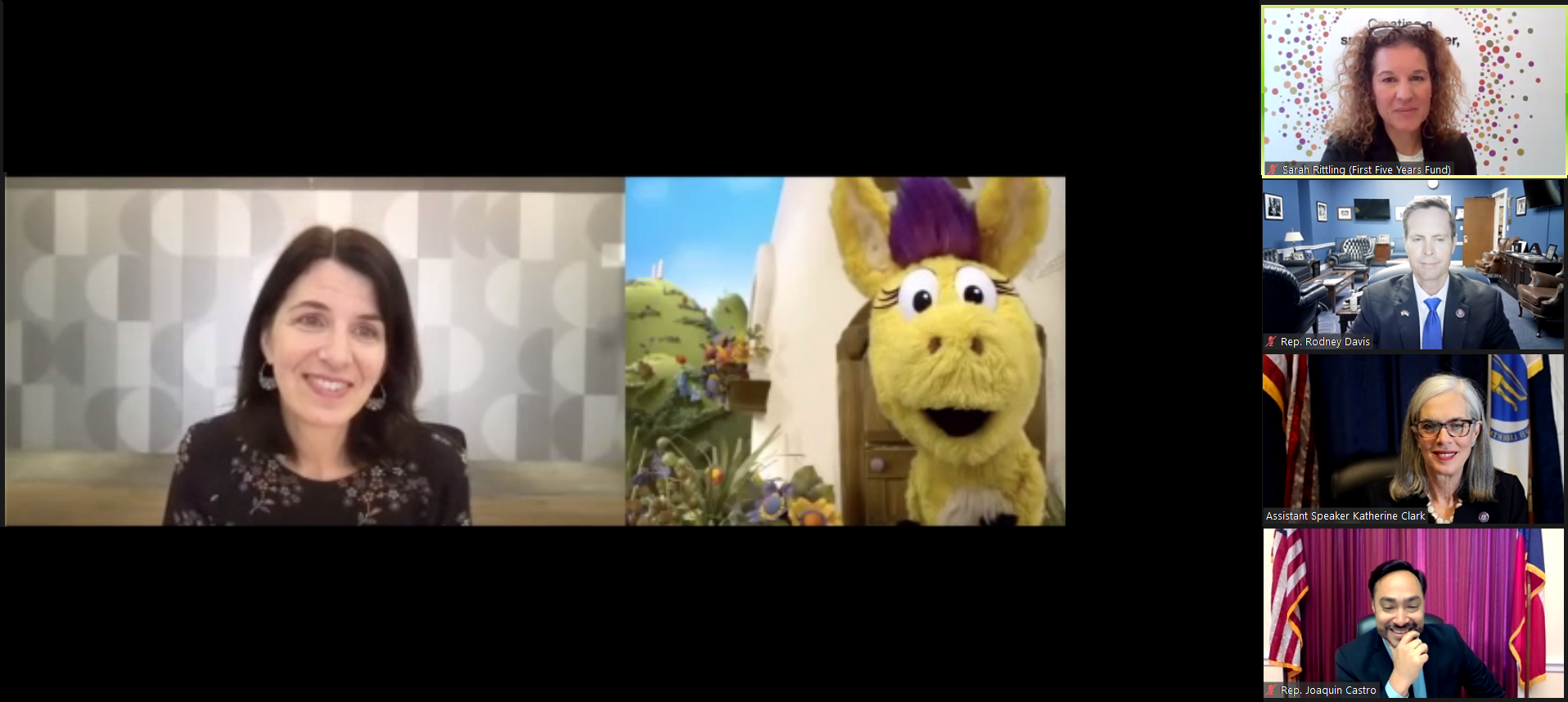 Bipartisan Congressional Pre-K and Child Care Caucus co-chairs watch a special presentation from PBS Kids character Donkey Hodie and Sara DeWitt, Senior Vice President and General Manager of PBS KIDS
"For more than a decade, San Antonio's Pre-K 4 SA program has been a national model for how serious investments in high-quality pre-kindergarten programs can transform communities," said Congressman Joaquin Castro, Caucus co-chair. "Expanding access to early childhood education will help parents get back to work, create good jobs, and set every child up for the future they deserve. As we recover from the pandemic and rebuild our nation's Infrastructure of Opportunity, investments in our kids can't be partisan. I look forward to working with my fellow co-chairs and Caucus members to explore the ways that Congress can support early childhood education in Texas and across the country."
"The work of the Pre-K and Child Care Caucus is more important than ever. The pandemic brought child care providers to the brink of collapse and left families in every state without access to care for their kids and parents unable to return to work. But the challenges facing our child care system existed long before COVID-19. We must seize this moment, and the bipartisan support united behind our Caucus, to build a care economy that ensures every child, every parent and our entire economy can thrive. As a co-founder and co-chair of the Caucus, I am eager to continue to build on our work and convey the power and importance of strong federal investments in the care economy while uplifting the voices and experiences of providers, early childhood educators, and families to help guide policy decisions," said Assistant Speaker Katherine Clark, Caucus co-chair.
"Creating, investing in, and improving access to early education programs is critical for preparing children for kindergarten and improving their future success in school and life," said Congressman Tom Cole, Caucus co-chair. "I am delighted to continue serving with my colleagues on this bipartisan caucus to strengthen our nation's early education programs."
"Pre-K and child care programs make a difference in children's lives and support working parents," said Congressman Rodney Davis, Caucus co-chair. "I've seen their impact firsthand in my district. I'm excited to once again join this caucus to support early childhood education and expand child care accessibility. Helping children learn at a young age is not only an investment in their future, but an investment in a stronger workforce and the future of our country."
"Child care and pre-K have proved to be a unifying priority for Democratic and Republican leaders for years, which is no surprise given how critical the first five years of life are to a child's development — and how necessary it is for families to know quality, affordable early education & care options are available to them," said Sarah Rittling, Executive Director of the First Five Years Fund. "We have witnessed the fragility of the early learning market play out firsthand over the past several years, as well as how essential child care is to getting parents back to work. We are thrilled to see Caucus Co-Chairs Castro, Clark, Cole and Davis continue to come together to elevate the care and education of America's infants, toddlers, preschoolers and their families through the bipartisan Pre-K and Child Care Caucus."
"PBS KIDS is committed to serving families and kids across the country to help prepare them for success in school and life. We are proud to partner with the Pre-K and Child Care Caucus in its effort to promote high-quality early education for our nation's children," said Sara DeWitt, Senior Vice President and General Manager of PBS KIDS.
"The Head Start community agrees: for a full recovery and a bright future, all children and families must have the opportunity to access their American Dream," said Yasmina Vinci, Executive Director of the National Head Start Association. "Decades of independent research show that Head Start and other high-quality early childhood education is critical to opening that window of opportunity for children and their hard-working families. As our nation's leaders work in a bipartisan manner to address the crisis facing early childhood educators and families, NHSA is proud to support the work of the Congressional Pre-K and Child Care Caucus and excited to partner in designing the future of our nation's early learning system together."
During the Caucus kickoff, attendees heard from early education experts including Dr. Mary Jane Miller-Baker, Senior Director of Early Childhood for the Edgewood Independent School District in San Antonio, Vicki Wilson, President of Homer Elementary School in Byng, Oklahoma, and Mayra Rosado, Senior Director, Family Child Care at Nurtury Early Education in Massachusetts.
To learn more about the Bipartisan Congressional Pre-K and Child Care Caucus, visit https://prekcaucus-castro.house.gov.
---
---
Next Article
Previous Article